13 Jun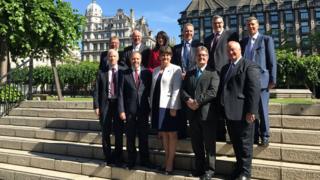 The Democratic Unionist Party leader has said she hopes to seal a deal on supporting Theresa May's minority government "sooner rather than later".
After meeting Theresa May in Downing Street, Arlene Foster said discussions were "going well" and she hoped for a "successful conclusion".
There are "no outstanding issues" in the way of a deal, the BBC understands.
But ex-Conservative PM Sir John Major said he was "dubious" about a deal and its impact on the peace process.
He told BBC Radio 4's World at One that if the Conservatives "locked" themselves into a deal with one of the main parties in Northern Ireland, there was a danger the government would no longer be seen as an "impartial honest broker" in restoring the power-sharing arrangements and upholding NI institutions.
Peace in Northern Ireland should "not be regarded as a given", said Sir John – whose government laid the foundations for the peace process in the 1990s – and nothing should be done to "exaggerate the differences" between the unionist and nationalist communities.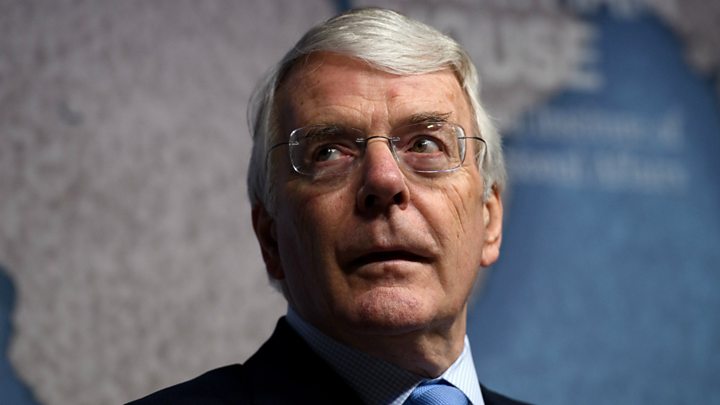 He urged Theresa May to consider governing on her own, saying this would not "carry the baggage" for the Conservatives that an arrangement with the DUP would.
Sir John suggested the DUP would be asking for money and that would be seen as the "government paying cash for votes in Parliament", and would be received badly in other parts of the UK.
Mrs May and Mrs Foster met for more than an hour, but the PM said nothing as she left for the Commons where MPs have returned and re-elected John Bercow as Speaker unopposed.
Addressing a packed House, the PM urged MPs to "come together in a spirit of national unity" to tackle the challenges facing the UK, urging them to help the country overcome divisions between "old and young and rich and poor".
Labour leader Jeremy Corbyn congratulated Mrs May on "returning as PM" and said he "looked forward to this Parliament, however short it may be".
He joked that he welcomed the prospect of a Queen's Speech once this "coalition of chaos has been negotiated", but said if this did not happen, he was "ready to offer strong and stable leadership in the national interest".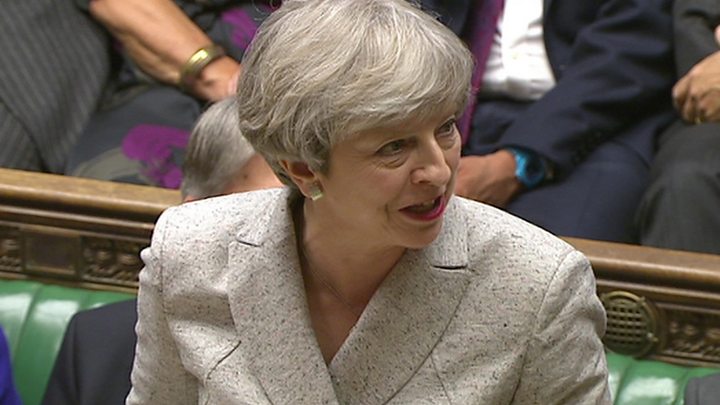 Conservative sources said "constructive" progress had been made in their talks with the DUP and both sides were "working carefully through the paperwork" to complete the deal.
Mrs Foster told the BBC that talks were continuing and areas being discussed including Brexit, counter-terrorism and "doing what's right for Northern Ireland in respect of economic matters".
The Conservatives are having to rely on the support of 10 DUP MPs after they fell eight seats short of winning an overall majority at the general election.
In their first meeting since the election, Mrs May's cabinet discussed the DUP deal – as well as Brexit and the forthcoming Queen's Speech.
The prime minister is now on her way to France for talks and a working dinner with President Emmanuel Macron. While the focus will be on combating online radicalisation and terrorism, Brexit will also be discussed.
Speaking on BBC Radio 4's Today programme, the new Environment Secretary Michael Gove predicted the alliance with the DUP would "strengthen the United Kingdom", and it was "entirely possible" to meet DUP concerns about cross-border trade with the Republic of Ireland after Brexit without the government changing its approach to negotiations.
Amid calls from some MPs for the Conservatives to rethink their Brexit strategy, he said there was a "clear consensus" for leaving the single market and ending free movement while retaining the "maximum access" to EU markets and maintaining co-operation in key areas such as science.
But in an article for the Financial Times, the EU's chief negotiator, Michel Barnier, has warned the UK there was "no time to waste" to get the process – which has 18 months to run – under way.
The agreement with the DUP is expected to be very different in nature to the coalition deal agreed between the Conservatives and Lib Dems in 2010, with DUP politicians not getting cabinet jobs and their support for other legislation to be determined on a vote-by-vote basis.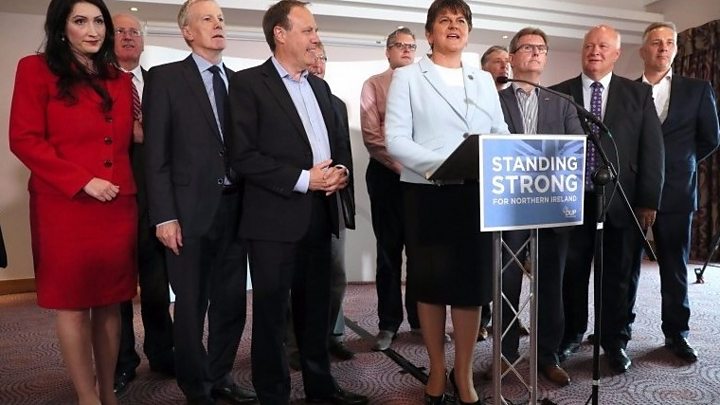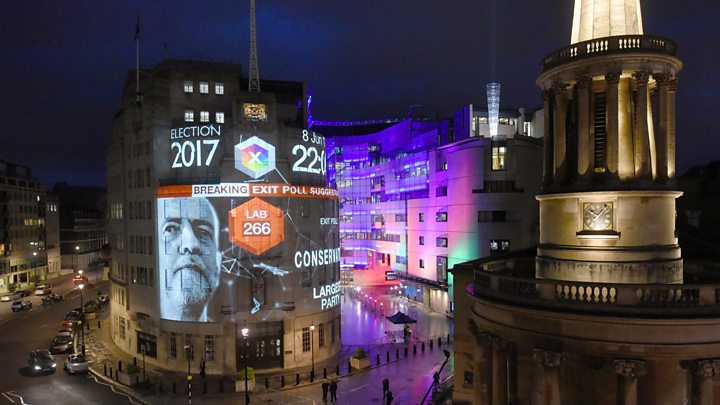 Mrs Foster has rejected suggestions that the mooted deal could undermine a return to power-sharing arrangements at Stormont, saying a deal between her party and the Conservatives – who have informally been building links for some time – could be a "tremendous opportunity" for Northern Ireland.
But Elisha McCallion, one of seven Sinn Fein MPs elected to Parliament who will not take their seats in Westminster, suggested a deal would not necessarily lead to greater investment in Northern Ireland.
"Defending the Good Friday Agreement, protecting our public services and establishing an Executive based on equality and respect are Sinn Féin's priorities," she said.
"This can only be achieved through the Stormont talks, not a bilateral DUP-Tory partnership which is primarily aimed at propping up Theresa May's ailing government and the right-wing agenda that will accompany it."
In other Downing Street news…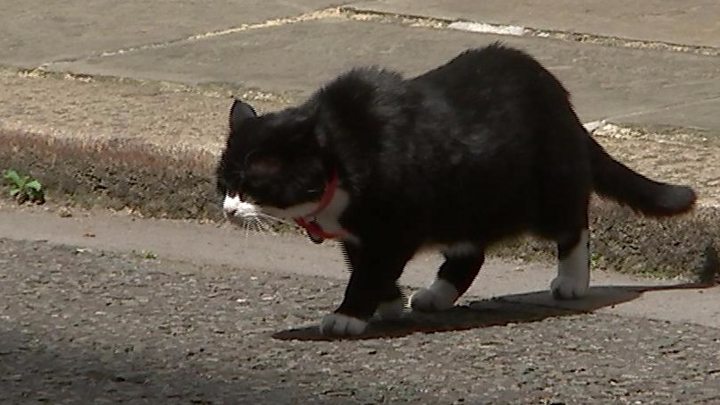 ---
Do you live in Northern Ireland? What are your thoughts on the Conservative and DUP talks? Share them with us by emailing haveyoursay@bbc.co.uk.
Please include a contact number if you are willing to speak to a BBC journalist. You can also contact us in the following ways: