17 May
A proper election press conference is a rarity these days. All the main parties like holding events were journalists sit alongside party supporters as they ask their questions (although this can backfire when reporters get booed for asking awkward questions, as happened at the Labour event yesterday). So a proper press conference with the prime minister and the chancellor is a bonus.
That said, it would help to have a prime minister who likes answering questions. Theresa May is not, by nature, forthcoming. Ask her the time of day, and she will probably respond by asking why you want to know. We saw that today when she started off refusing even to confirm that the Tory manifesto will be published tomorrow.
But sometimes what politicians don't say can reveal as much as what they do, and so the gaps in her answers were revealing. And other comments were interesting too. Here are 10 things we've learnt.
1 – May won't confirm that Philip Hammond will stay on as chancellor after the general election (although the chances are that he will.) The BBC's Laura Kuenssberg got the first question at the press conference and she explicitly asked May to confirm that she would keep Hammond as chancellor. Quite pointedly, May refused to answer this bit of the question. A second reporter asked the same question, and this time Hammond replied, stressing how well they worked together; May, again, chose not to confirm that he would stay. But she was warmer about him in response to the final question, when the Sun's Steve Hawkes asked her to give an endorsement of her chancellor. She replied:



Happy to do so, yes. Very happy to do so. As Philip says, we have worked together over the years for many years, longer than we would care to identify.
What are we to make of this? Tony Blair and David Cameron both went into elections confirming that they would keep their chancellors, although only opaquely – with something along the lines of, 'Why change a successful team?", I seem to remember – but generally PMs hate giving assurances of this kind, not least because all that does is prompt questions about other appointees. ("Will you keep Boris Johnson?") May did not confirm that Hammond would keep his job, but that is probably more indicative of her unwillingness to disclose any information than of an intention to sack him. Kuenssberg's judgment seems spot on.
2 – May has confidence in the "relationship" with President Trump – although perhaps not the man himself. Asked if she had confidence in Trump, she replied:



We have a very special relationship, as you know, with the United States of America. This is the most important defence and security relationship that we have around the world. I was very pleased that when I went to the United States shortly after President Trump's inauguration he was able to commit to his 100% commitment to Nato, which is an important bedrock of our security, and the bedrock of the security of Europe.

We continue to work together and we have confidence in that relationship between us and the United States in that helps to keep us all safer.
There is no reason why a prime minister does have to say she has full confidence in a foreign leader; it is up to the Americans who they choose as their president. May did not say anything undiplomatic, but she could have praised Trump in personal terms and chose not to. Just imagine how David Cameron would have answered that question about Barack Obama.
3 – May wants to use the Conservative manifesto to show she can take tough decisions. In her opening remarks May said:



Unlike Jeremy Corbyn's fantasy wish list of easy policies, paid for with imaginary money, I will set out in detail the five great challenges our country faces over the next five years and lay out how we will tackle them.

While Jeremy Corbyn and Labour retreat into an ideological comfort zone, ducking the difficult challenges which lie ahead, I will be straight with people. I won't shy away from facing the challenges of our time. Rather, I will set out how we will tackle them head-on, because that is what leadership is about. And on this key test Jeremy Corbyn has failed once again.
This sounded like a hint that the manifesto will include tax rises of some sort to fund social care. The New Statesman's George Eaton also detected a whiff of William Beveridge.
4 – May won't rule out putting up taxes for high earners. Asked about Labour's plans to put up taxes for the top 5% of earners, May said that the Tories were a low tax party, but she declined to rule out putting up taxes for people in this bracket. Hammond said the top 1% of earners pay 27% of income tax, which he said was more than under Labour. This implied he did not want to see them pay more, but, like May, he refused to say so explicitly
5 – May refuses to accept that Brexit has led to a slump in sterling, which has pushed up inflation. Asked if she agreed with this, she said that sterling had started to fall before the referendum. This is technically true, but rather misses the point, as this chart points out.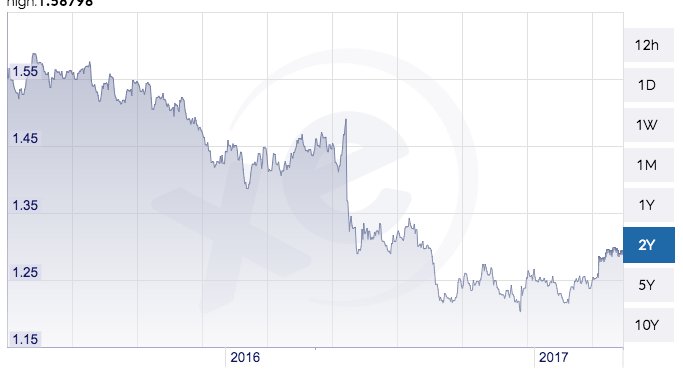 My colleague Rafael Behr says that the Bank of England has no problem saying Brexit led to the fall in the value of the pound.
6 – Hammond thinks that the inflation-driven squeeze on the cost of living is just temporary. Asked about inflation and living standards, he said:



Yes, we have seen inflation passing through the economy. But this will be transient. It's a result of currency movements last year. And the OBR forecasts that in every year of the five-year forecast period real wages will continues to increase.
7 – The Tories are renewing their claims that Labour cannot be trusted with the economy. The press conference was called to publicise a document claiming there is a £58bn black hole in Labour's plans. (See 10.14am.) May said in her opening remarks:



Any party which asks the British people to entrust to them the responsibility of forming the next government through the crucial years of our Brexit negotiations and beyond must demonstrate that it has the credible economic plan and the capable team to safeguard our economic security.

No-one could look at what Jeremy Corbyn and his Labour party offered yesterday and conclude that it passed that test. The risk that a Jeremy Corbyn government would pose to our economy has been laid bare.
8 – The Conservative manifesto will be published tomorrow. Hammond refused to say this in his Today interview this morning (see 8.18am), and at the start of the press conference May talked about it being published "later this week", but later, in what may have been a slip of the tongue, she said it would come tomorrow.
9 – The manifesto will include an update on the Tory timetable for getting rid of the deficit. Asked when the deficit would be eliminated, Hammond said the manifesto would make this clear.
10 – May and Hammond are not willing to debate the merits of getting tax to focus more on wealth than income. Asked by the Financial Times's George Parker for their thoughts on this (see 10.37am), they both ducked the question. Nick Timothy, May's co chief of staff, is known to be sceptical about George Osborne's cuts to inheritance tax, and there has been speculation that the manifesto could include plans for some new tax on estates.