31 May
Welcome to the last day of May, a joke I am allowed to employ because it is before breakfast but that will almost immediately become overused and infuriatingly unfunny. I'm Claire Phipps with the morning roundup and the day's early politics news; Andrew Sparrow will be along later. Join us in the comments below or find me on Twitter @Claire_Phipps.
What's happening?
After Theresa May burned the nation's brains with talk of Jeremy Corbyn going "naked in the negotiating chamber" for Brexit talks – yes, it's a version of an Aneurin Bevan quote; no, that's not what most people took from it – it's clear that the final week of the election campaign is going to get personal.
Personal isn't always offputting, of course: Corbyn's appearance on the One Show to chat about his love of manhole covers and refereeing under-10s (easier to wrangle than the PLP, he confirms) was warmly received as "human", a quality often perceived as incompatible with "politician".
But his F5-and-you'll-miss-it Mumsnet webchat won fewer fans, even among the handful of posters who had their questions answered in his 25-minute visit:



Wellysocksbox: Jezza answered my question first! GET IN!! Still voting LibDem though.
That came, of course, after the Woman's Hour run-in where Corbyn stumbled over the cost of the childcare pledge he'd gone on air to plug – memo to Labour politicians: if you have to go naked into the studio, at least scribble the numbers on the back of your hand – but here it was interviewer Emma Barnett for whom things got personal. The Labour leader later condemned as "unacceptable" the antisemitic abuse heaped upon her by some of his backers on Twitter.
It's pick a theme and stick to it week, as May continues today to pound the Brexit line, and Corbyn doubles down on public services. The leak to the Daily Mail and the Telegraph of a "secret plan" to extend visas to unskilled overseas workers has been batted away by the Corbyn camp as "not a statement of Labour policy" but a discussion paper; expect the PM to discuss it as she heads to south-east England for another speech warning of the need for stability ahead of Brexit talks that fall inconveniently right after the election she called.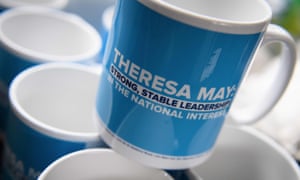 There's still a slim chance that Corbyn will pitch up for the BBC leaders' debate this evening. He's previously said he would not appear without May, who is sending Amber Rudd as a stand-in. But bouncing from the One Show and Monday night's Sky News interview, and with a BBC Question Time special to come on Friday, he might fancy another peak-time outing. Squeeze in Springwatch on Thursday and he'd have the week sewn up.
A no-show dominated the Welsh leaders' debate last night, too, with both the Welsh secretary Alun Cairns and Welsh Conservative leader Andrew RT Davies giving it a swerve. A snippy statement from Davies – gist: if Cairns can't be bothered to turn up, why should I interrupt my wedding anniversary holiday? – gave those who did appear, including Labour's Carwyn Jones and Plaid Cymru's Leanne Wood, plenty to lob at the Tories' reported resurgence. Stick with the live blog for more on that shortly.
Meanwhile, the SNP launched its manifesto, breaking the referendum/general election/referendum/general election pattern by giving us a year off in 2018: indyref2 would come "at the end of the Brexit process", it pledges. Check out the key points and analysis here.
At a glance:
Poll position
What to make of the Times/YouGov seat projection that puts May short of an overall majority? The modelling pushes the Tories down to 310 seats from the 330 they held before dissolution; gives Labour 257, up from 229; and awards the Lib Dems an extra seat, taking them to 10. The prediction would leave the SNP with 50 of the 54 seats they are defending; Plaid Cymru and the Greens would stay as they were, on three and one. (There is no breakdown for Northern Ireland seats.) The takeaway? The Tories would be 16 seats away from a Commons majority.
The Times says the modelling is "based on 50,000 interviews over the course of a week" with a voter panel convened by YouGov. But it also concedes:



The projection allows for big variations, however, and suggests that the Tories could get as many as 345 seats on a good night, 15 more than at present, and as few as 274 seats on a bad night.
Should we pay any heed? Many, including Newsnight's Chris Cook, were scathing:
Meanwhile, in utterly contradictory polling news (is there any other kind?), a fresh ICM poll for the Guardian put the Tory advantage at 12 points, 45% v 33%, with Labour skimming two points off the leaders since last week.
Diary
The humanist funeral for former Welsh first minister Rhodri Morgan takes place at 11am at the Senedd in Cardiff.
Jeremy Corbyn will make a speech in London this morning centring on the NHS, social care and schools.
Nick Clegg will also focus on schools as he shows off a new Lib Dem poster.
The Scottish Liberal Democrats publish their manifesto at 12.15 in Edinburgh.
Ukip Scotland follows suit at 1.30pm in the same city.
Theresa May is campaigning in south-west England, well away from the BBC studio in Cambridge…
…where at 7.30pm Mishal Husain hosts the BBC leaders' debate. Amber Rudd, Tim Farron, Caroline Lucas, Angus Robertson, Paul Nuttall, Leanne Wood and Someone* from Labour will take part. (*Possibly Emily Thornberry, but the party hasn't ruled out a last-minute substitution.)
Read these
Alison Rowat in the Scotsman says the SNP leader is playing a dangerous game with talk of a progressive alliance:



Talking Labour down in Scotland outwith election periods, and raising the possibility of a pact as soon as an election is called, is fine as long as there is no other place for the votes of Scottish Labour supporters to go. That was the case in 2015, but now? It has perhaps not occurred to Ms Sturgeon that Labour voters might be wearying of being treated like voting fodder, their ballots smoothing the way to a second referendum at a time of her choosing. While they may not be able to stomach voting Tory in June, there is a more than fair chance that this time, particularly if they were Leave or No supporters, they will be considering voting tactically. At her manifesto launch yesterday, Ms Sturgeon repeated the claim that 'only the SNP can keep the Tories in check'. Not in every case, first minister. Hell hath no fury like a voter who thinks they are being taken for granted.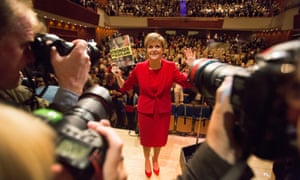 Alice Thomson in the Times says a little-noticed Tory pledge could have significant ramifications:



Tucked away on page 50 of the Conservative party manifesto is a mild-mannered, seemingly inoffensive line that is designed to be overlooked. I suspect it's meant to sound so harmless and boring it's hard to get to the end of the sentence – but try: 'We will replace the unfair and ineffective inclusivity rules that prevent the establishment of new Roman Catholic schools, instead requiring new faith schools to prove that parents of other faiths and none would be prepared to send their children to that school.'

Stultifyingly dull, yes, but incredibly important. What the manifesto is saying is that the Tories are determined to lift the 50% cap on selection of pupils by faith that was introduced 10 years ago to prevent our education system becoming ghettoised. In other words, they are encouraging segregation in our playgrounds.
Revelation of the day
The LGBT hustings organised by Stonewall, Pink News, and Pride in London last night saw education secretary Justine Greening – who said last year she was in a same-sex relationship – label the prime minister the "unsung hero" of recent equality legislation. Others attending, including Lib Dem peer Brian Paddick, weren't so sure that the woman who voted against the repeal of Section 28 was a champion of gay rights. Ukip's thoughts on that, and every other issue raised, remain a mystery, though. As the moderator explained:



We did invite Ukip, but they didn't reply to any of our emails.
The day in a tweet spat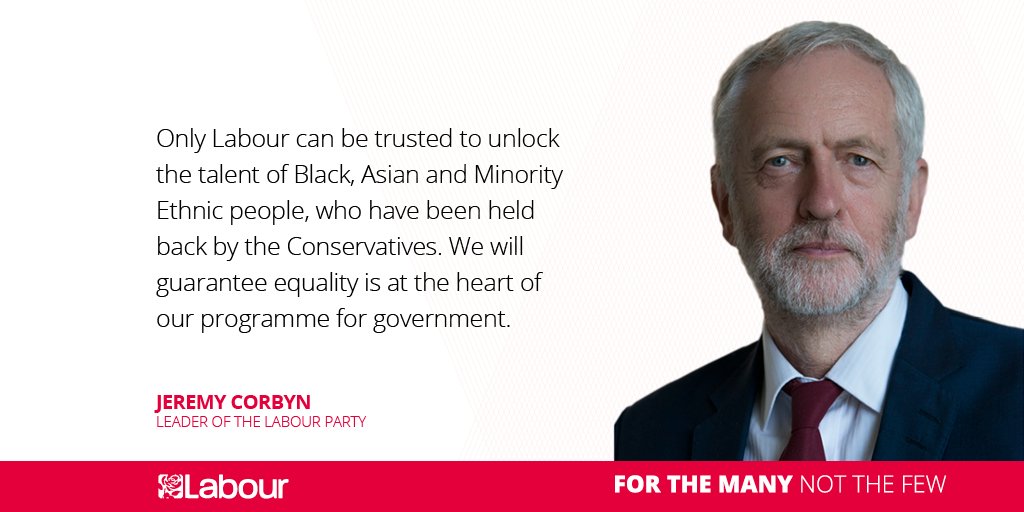 James Cleverly – who tweeted a succession of minority ethnic Tory ministers and candidates – communities secretary Sajid Javid and junior minister Sam Gyimah were among the Conservative candidates to offer … gratitude:
And another thing
Would you like to wake up to this briefing in your inbox every weekday? Sign up here!