31 May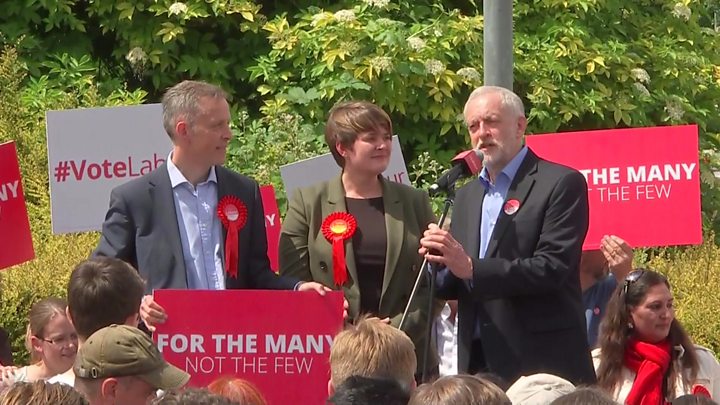 Labour leader Jeremy Corbyn says he will take part in a seven-way BBC general election debate later.
Lib Dem leader Tim Farron, UKIP's Paul Nuttall, SNP deputy leader Angus Robertson, Green co-leader Caroline Lucas and Plaid Cymru leader Leanne Wood will participate.
Theresa May has refused to take part in any debates, so Home Secretary Amber Rudd will be representing the Tories.
Labour had said that Mr Corbyn would not attend unless Mrs May was there.
Confirming he would be taking part, Mr Corbyn criticised the Tories for what he called "a stage-managed arms-length campaign".
"Refusing to join me in Cambridge tonight would be another sign of Theresa May's weakness, not strength," he added.
Following Mr Corbyn's surprise announcement, the Conservatives said there would be "no changes" to Mrs May's plans, and that she would be meeting voters rather than "swapping sound bites with six other politicians".
---
Analysis: By BBC Political Editor Laura Kuenssberg
There is a buoyancy about the Labour campaign at the moment, Jeremy Corbyn's public performances have improved, and his team believe he has more to gain than to lose from taking part in this big set-piece campaign event.
And for today at least, it gives Labour a tactical advantage, ammunition to portray Theresa May as cowering and afraid of making her arguments.
---
Mishal Husain will moderate the debate, which takes place in Cambridge and will be shown on BBC One from 19:30-21:00 BST and livestreamed on Twitter.
Each panellist will make an opening statement before taking questions from the audience.
The show is the latest in a series of special broadcasts ahead of the 8 June general election.
This includes two Question Time shows – on 2 June featuring Mrs May and Mr Corbyn appearing separately and on 4 June with Mr Farron and SNP leader Nicola Sturgeon.
Andrew Neil has been carrying out a series of interviews with party leaders.