4 Jun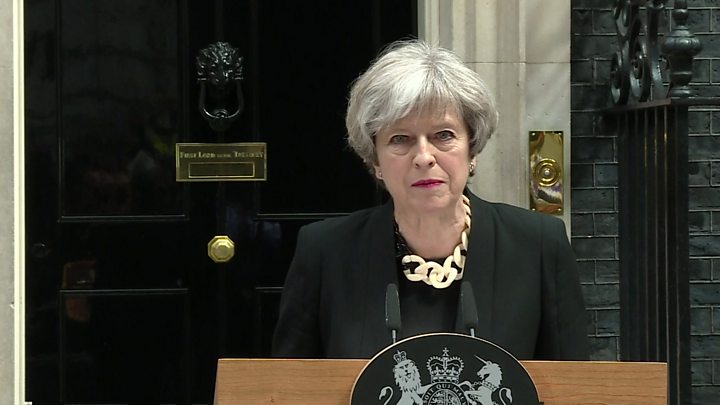 The prime minister has confirmed the general election will take place as planned on 8 June, despite another terrorist attack in London.
Speaking outside Downing Street, she said: "Violence can never be allowed to disrupt the democratic process."
Political campaigning would resume in full on Monday, she said after most parties suspended national campaigns.
Seven people were killed in the attack near London Bridge, the third terrorist attack in the UK in three months.
UKIP is the only major party to say it would not suspend campaigning, with leader Paul Nuttall arguing that was "what the extremists would want".
The attack began when a white van hit pedestrians on London Bridge at about 22:00 BST on Saturday, before three men got out and stabbed people in nearby Borough Market. Seven people have been killed and scores injured. The three suspects were shot dead by police.
The prime minister gave a statement after chairing a meeting of senior ministers and security chiefs in the government's emergency Cobra committee.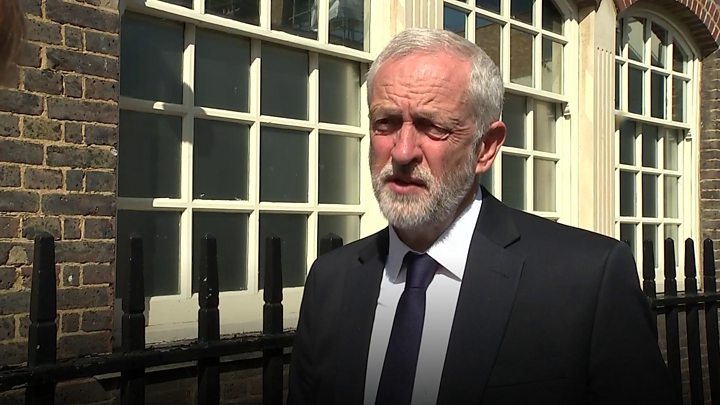 Theresa May said: "As a mark of respect the two political parties have suspended our national campaigns for today.
"But violence can never be allowed to disrupt the democratic process, so those campaigns will resume in full tomorrow and the general election will go ahead as planned on Thursday."
Labour leader Jeremy Corbyn said he was "absolutely shocked and horrified" at the attack, but added: "If we allow these attacks to disrupt our democratic process, then we all lose".
'Freedom to vote'
He said that in response, "as in Manchester – all communities must come together. Our strength is the strength of our community unity."
Lib Dem leader Tim Farron argued: "We must make sure we defend our country – that does not mean letting the pathetic cowards win by us dismissing our democracy or getting rid of our freedoms."
In 2001, Tony Blair postponed plans for a general election by a month, because of the foot-and-mouth crisis.
But Brexit Secretary David Davis told the BBC earlier it would be difficult to postpone the general election as it would require a change in the law and Parliament was currently dissolved.
He added: "On the one hand, clearly we want to respect the people who have been injured and killed, we want to pay proper respect and therefore we don't want to carry on across it.
"But on the other hand, the people who are doing this, are doing this because they despise the freedoms we have, and those freedoms can be to go out on a Saturday night or the freedom to cast a vote."
But explaining UKIP's decision to continue national campaigning on Sunday, party leader Paul Nuttall said it was "time to start honouring our dead with more than just words".
"The only guarantee that will come from our choosing to stall the democratic process again will be more attacks – it is what these cowards want us to do."