2 Jun
In the final TV event of the campaign featuring the leaders of the two major parties, the Prime Minister and Leader of the Opposition faced a 45-minute barrage from members of the public.
Mrs May was taken to task by four members of the audience about her social care policies; and by an emotional voter who had waited 18 months to access treatment for mental health problems.
Mr Corbyn, a long-standing advocate of nuclear disarmament, struggled and was accused of "dodging the question" by veteran host David Dimbleby as he refused to say what he would do if Britain was threatened with a nuclear strike.
He claimed a Government he led would ease tensions with countries such as North Korea through negotiations "before it reached that stage", and would not say if the UK would hit back if struck by another country.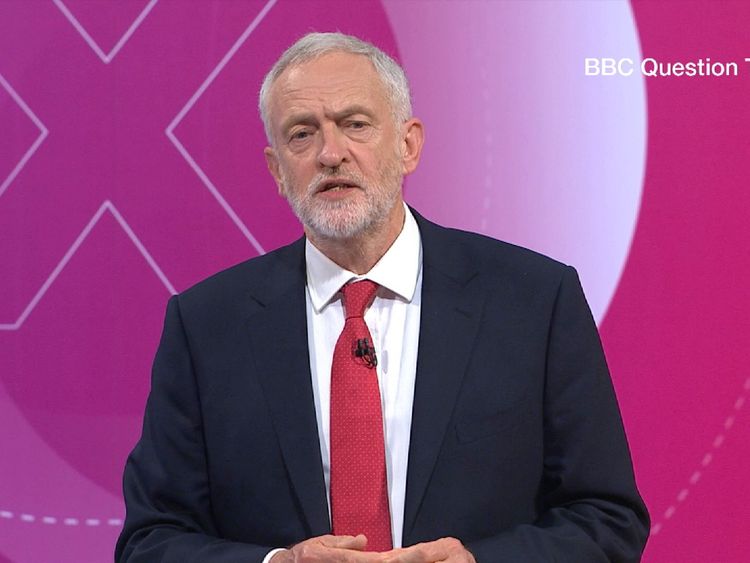 :: Tory declares innocence over election charge
The Prime Minister had the most difficult moments of the debate when questioned about public services.
A nurse, who said she had seen a real terms cut in her pay over the past seven years, asked the Prime Minister why she was not investing in the NHS amid heckling from other guests.
Mrs May offered her little reassurance, saying: "We have had to take some hard choices across the public sector, and I'm being honest with you that we will put more money into the NHS but there isn't a magic money tree we can just shake."
She added: "We are putting record levels of funding into the NHS and will continue to put money into the NHS."
In awkward scenes, Mrs May listened as a partially sighted voter who had waited 18 months for counselling became emotional as she recounted a bad experience with the Work Capability Assessment.
The PM said she made no excuses for the woman's treatment and would make mental health a priority.
Several questions were asked about the PM's social care reforms, which forced her into a rare u-turn on a manifesto pledge before polling day.
:: Sturgeon signals SNP would back Labour govt
She said social care would be capped over a person's lifetime, but would not reveal the level.
But a bullish Mrs May told the audience she had the "balls" to call an election because she wanted a strong hand to negotiate Brexit and claimed a minority government led by Mr Corbyn would be propped up by the SNP. Mr Corbyn said he would not "make any deals" with other parties.
The Labour leader – who has vowed to raise income tax for those earning over £80,000 a year and restore the corporation tax rate to 26% – was taken to task by a small business owner with five employees who pointed out that the Conservatives were offering him a rate of just 17% in business tax which would help his firm grow.
In an echo of the 2015 Question Time debate in which Ed Miliband was attacked over Labour's spending plans, Mr Corbyn was asked whether his manifesto was a "letter to Santa Claus" and what he would do "when there is no money left?"
He was put on the spot again over a recurring theme in this campaign – his support for the IRA – by an audience member who said: "They did kill a lot of people didn't they?"
Mr Corbyn – who claims he was trying to make peace in Northern Ireland – replied that killings on all sides were indefensible.
Quizzed on his party's record on anti-Semitism, Mr Corbyn claimed his party did not tolerate it and had suspended members including Ken Livingstone.
A young woman asked why the former London mayor had not been suspended over his rant in a radio interview 14 months ago, to which Mr Corbyn said investigations "may continue".
Following a row with the Conservatives over the composition of its audience in a debate on Monday, the BBC said its Question Time audience was balanced, with a third of those present planning to vote Conservative, a third for Labour and the rest undecided.