12 Jun
The Labour deputy leader, Tom Watson, has written to Theresa May asking if Rupert Murdoch asked her to reappoint Michael Gove to the cabinet or face bad press in his newspaper titles.
Gove's shock return as environment secretary comes a little over a year after being fired from his position as justice secretary by May following his ill-fated attempt to lead the Conservative party.
Following his sacking, Gove was immediately rehired by Rupert Murdoch's Times, where he had worked from 1996 to 2005 as a columnist and book reviewer on a reported £150,000 a year.
Gove became embroiled in scandal earlier this year when it was reported that Murdoch was in the room when Donald Trump gave his first post-election foreign newspaper interview in the UK to him.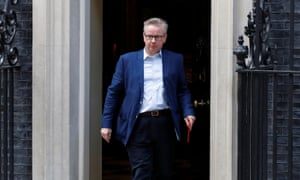 "I am writing to ask you about any influence Rupert Murdoch may have sought to exert over cabinet appointments," said Watson, in a letter to May published on Monday. "Specifically, it has been suggested to me that Rupert Murdoch asked you to appoint Gove to the cabinet."
Watson questioned whether the Tories' failure to secure a parliamentary majority may have led her to consider currying favour with the Murdoch press.
"It might be tempting to allow yourself to be influenced by powerful media proprietors who can shape the way your government is covered," said Watson.
Watson called on May to answer three questions relating to Murdoch: has he ever "made suggestions" about ministerial or staff appointments, has he ever suggested specifically that Gove should be given a ministerial position and has Murdoch ever said there "might be consequences" in the pages of his papers if she did not take his advice.
Gove has shown his admiration for Murdoch over the years, telling the Leveson inquiry into press ethics in 2012 that the media mogul was "one of the most impressive and significant figures of the last 50 years".
Another insight into their relationship was exposed when a personal email from Gove's wife, Sarah Vine, a columnist for the Daily Mail, was accidentally leaked. In it, she discussed whether Murdoch would support his leadership bid.