20 Oct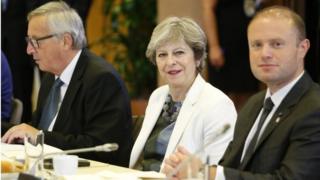 Theresa May made a personal appeal to EU leaders for the Brexit talks to move on to the subject of trade at a working dinner in Brussels.
The prime minister is reported to have asked for a deal she could "defend" to the British people.
Her fellow EU leaders are expected to say there has not been enough progress in negotiations at the conclusion of a summit later.
But they may agree to begin talking among themselves about trade.
The EU leaders have gathered in Brussels for a crunch summit to assess the progress made so far in Brexit negotiations with the UK, which is due to leave the EU in March 2019, following last year's referendum result.
Mrs May will leave the summit on Friday morning after holding a press conference. The other leaders will then discuss Brexit without her.
They are expected to officially conclude "insufficient progress" has been made in negotiations over citizens' rights, the UK's financial obligation and the border in Northern Ireland to allow them to move onto the second phase of talks dealing with trade discussions.
The prime minister made a personal appeal to her EU counterparts at a working dinner last night, telling them that "we must work together to get to an outcome that we can stand behind and defend to our people", a senior government source told the BBC's Laura Kuenssberg.
Analysis
By BBC Europe correspondent Kevin Connolly
Theresa May issued a powerful call to the 27 EU leaders to join her in creating a Brexit deal that she will be able to stand behind and defend.
She told them she had listened both to them, and to voices in Britain, before offering money and movement on crucial issues in her Florence speech last month.
Most of the leaders said little or nothing as they left – the evening ran late after a difficult debate on Turkey – but those who did, like Angela Merkel, acknowledged the progress made so far while continuing to insist on more.
The summit won't look like a disaster for the UK's negotiators – they will get a public indication that the EU is preparing for trade talks whenever they might come.
But attention now shifts to the December summit, and the British need for a breakthrough there grows greater with every passing week.
BBC Europe editor Katya Adler said all EU leaders knew Mrs May was in a politically difficult situation and did not want her to go home empty handed, so had promised they would start talking about trade and transition deals among themselves, as early as Monday.
German Chancellor Angela Merkel said there were "encouraging" signs of progress in Brexit negotiations and suggested formal trade talks could begin in December – when EU leaders are next scheduled to meet.
She said the process was progressing "step by step" despite British media reports that negotiations were not advancing.
"I have absolutely no doubt that if we are all focused – and the speech in Florence made a contribution towards that – we can achieve a good result," she said.
"From my side there are no indications at all that we won't succeed."
European Commission President Jean-Claude Juncker said he did not "think that there will be a miracle" at Friday's talks that would allow trade talks to begin immediately. "We have some details but we don't have all the details we need. But work is going on."
Get news from the BBC in your inbox, each weekday morning