26 Apr
Good morning and welcome back to another day on the campaign marathon.
I'm Claire Phipps, bringing you this morning's essential – should your morning be incomplete without news of constituency selection battles – briefing, and steering the live blog until Andrew Sparrow joins us later.
What's happening?
Today sees Theresa May and Jeremy Corbyn square off for PMQs for the last time in this parliament. Will we see them across the dispatch box in this formation again?
Expect Twitter klaxons every time May recycles her "strong and stable leadership" mantra; for Labour, you get a bonus point for every Corbyn question that sticks to the Labour election script – the NHS, schools and social care (points deducted for utterances on defence, Brexit and immigration, which fall in the "best not to mention" section of the leaked campaign document).
While Labour is inching halfway towards a consensus on the last issue – with apparent agreement that free movement from the EU will end with the divorce – what comes next (and is stamped into the manifesto) is still apparently at the intractable brainstorm stage.
But there is a present giftwrapped, beribboned and couriered straight to the Labour leader's desk this morning courtesy of MPs on the public accounts committee, who have condemned the government's free schools policy as incoherent and wasteful. No missed cue, either, from shadow health secretary Jon Ashworth, who will announce today that the pay cap on "ignored, insulted, undervalued, overworked and underpaid" NHS workers would be lifted by a Labour government.
"A Labour government" is being rolled around on the tongues of Tory strategists worried (or tactically affecting to be) that talk of a Conservative landslide might not inspire supporters to pop to the polls – or could even prompt potential backers to vote for the opposition simply to hold the presumptive PM in check. But with manifesto pledges still a way off, May has promised she will "stop ducking" that most duckable of issues, social care.
Meanwhile, the who's in, who's out, who just can't make up their mind carousel reels on, with Plaid Cymru's Leanne Wood ruling herself out of a Westminster run; veteran Tory Andrew Tyrie stepping down in Chichester; suspended independent Simon Danczuk probably back for Labour in Rochdale; foot-shooting independent Zac Goldsmith possibly back for the Conservatives in Richmond Park; David Ward – previously suspended from the Lib Dems over antisemitism – reportedly back for his old party in his old Bradford East seat; and Tory MSP John Lamont stepping down from Holyrood to try to win Berwickshire, Roxburgh and Selkirk from the SNP. That's assuming he's not disqualified for crimes against bar charts: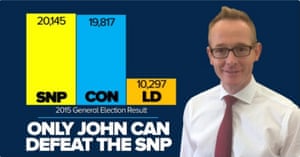 Oh, and Ukip leader Paul Nuttall still doesn't know whether or not he'll be standing, as he ponders the pros and cons of integration.
At a glance:
Poll position
The prime minister dishes out today's essential caution:



Remember, the opinion polls were wrong in the 2015 general election; they were wrong in the referendum; and Jeremy Corbyn himself has said that he was a 200-1 outsider for the Labour leadership in 2015 – and look where that got him.
With that lodged firmly in mind, Kantar has the Tories in a commanding lead – on 46% to Labour's 24% – with the Lib Dems trotting behind on 11%, Ukip on 8%, SNP on 5%, the Greens on 4% and Plaid Cymru on 1% (you can insert your own caveats on Scottish and Welsh parties here).
Diary
Theresa May and Jeremy Corbyn bow out of this parliament with the final PMQs at noon.
Jean-Claude Juncker and EU Brexit negotiator Michel Barnier pop in for private talks with the PM at No 10.
Tim Farron campaigns in St Albans, a Tory-held seat on the Lib Dem target list.
Shadow health secretary Jon Ashworth shares more on Labour's NHS plans at the Unison health conference in Liverpool.
Ukip is due to select its candidates in meetings around the country this evening.
Talking point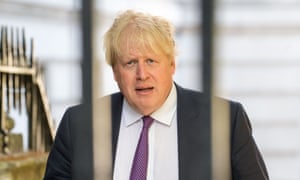 That evergreen question – how do you solve a problem like Boris? – sprouts again, with a report in the Times today (downplayed by Downing Street) that May will be urged to "bury" the foreign secretary during the election campaign. A plan to tuck him into the shadows of the 2015 campaign was squashed by Johnson's ability to boom his way out of (almost) any efforts to sideline him. Back then he collywobbled – with all the conviction with which he stood beside the "£350m a week to the NHS" Vote Leave battle bus – that "never have I been so worried about what could happen under Labour". If Corbyn gives him the jitters, will we get the chance to find out?
Read these
Bonnie Greer in the New European says that the PM, in making this election explicitly about Brexit, has made a tactical mistake:



In effect, this is EU Referendum 2. This is the chance for those who didn't vote/couldn't vote, to come out. It's a chance for Remainers to convert more people, help their friends to see the catastrophe that Brexit is …

'My own constituency voted Remain,' Theresa May announced in the Commons as an example of her adhering to the 'will of the people'. But if everyone in Maidenhead who voted Remain backed the Lib Dems in June, the PM could lose her seat.

This is the level of the gamble she's taking; the campaign that she could be giving voice to; the reason why this may not be the slam-dunk the Tory press want us to believe.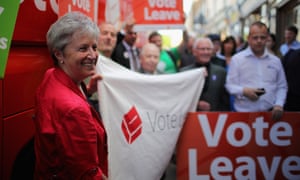 In the Telegraph, Gisela Stuart, the outgoing, Brexit-backing Labour MP for Birmingham Edgbaston, says her party needs to up its campaign game:



The Labour party will need more than a wish list and a collection of grievances. I'll offer three topics for starters. How do we ensure a fair intergenerational settlement? How can our education and tax system respond to the changes of the world of work and employment? Where do we anchor democratic accountability in a world of global flows of goods, money and people?

Planning for parliamentary deadlock and pacts with other parties might be tempting. But these are the methods of counter-insurgents. If Labour instead wants to be a party of government, it has to go into the 2017 election fighting for every vote.
Federica Cocco in the Financial Times takes a look – with correctly-scaled charts! – at what Brexit means for traditional battleground seats:



The gap between first- and second-place party in 2015, 2010 or earlier, as well as any byelection result, is not the only factor. Strategists are having to look at how many people in a given seat voted leave or remain in last year's EU referendum. This information is especially crucial for the Liberal Democrats …

A 30- to 40-point improvement (that is, a 15% to 20% swing that went entirely from the first-placed party to the Lib Dems) would do the job in seats where a majority voted remain – but that is an incredibly ambitious target.
Revelation of the day
The PM's speech in Bridgend yesterday came exactly one year after her only major pronouncement during the Brexit campaign – in favour of remain, for those with too-much-news-hazed memories. Politico Europe rounded up some of her key warnings, on trade, security and the union (UK version):



I do not want the people of Scotland to think that English eurosceptics put their dislike of Brussels ahead of our bond with Edinburgh and Glasgow.
The day in a tweet
Trudy Harrison, who won Copeland for the Conservatives in a byelection just two months ago, squeezed in her maiden speech in the Commons just before she has to fight for the seat all over again:
And another thing
Would you like to wake up to this briefing in your inbox every weekday? Sign up here!