24 Apr
Good morning and welcome to day 44 in the countdown to the general election.
As Claire Phipps is away, today's briefing is brought to you Nicola Slawson. I'm Martin Farrer but don't worry because Andrew Sparrow will be along later as usual and will covering all of the day's election action. In the meantime, here's Nicola's roundup of all the latest campaign news. Comments are open below or you can find me on Twitter @Nicola_Slawson.
What's happening?
All eyes were on our neighbours across the channel yesterday evening as France went to the polls. The outcome of the presidential election is set to impact on Brexit negotiations, whatever the outcome which we'll know almost a month to the day before our election. With independent centrist Emmanuel Macron topping the first round of the French presidential election, it could spell bad news for the UK in talks on Brexit should he win.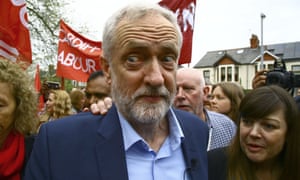 Old wounds in the Labour party were reopened on the country's nuclear deterrent after a "zen-like" Jeremy Corbyn said on the Andrew Marr show that "all aspects" of defence would be reviewed if he won power. A Labour spokesperson then spent yesterday attempting to dial that back by insisting that Labour backs the UK's Trident nuclear weapons. This contradiction has naturally been jumped on by the right wing press today, with the Daily Mail running with "Corbyn's defence debacle" as the headline to its double page spread on the matter.
The Conservatives said they would include a cap on household energy bills in their manifesto. This came as a surprise to Ed Miliband who took to Twitter to ask: "Where were these people for last four years since I proposed cap? Defending a broken energy market that ripped people off. Let's see small print." And later: "Tories in for kicking from Sun and Mail tomorrow for energy policy. Just wait: Marxist madness, anti-business, back to 70s." Having perused the first editions, they seem to have missed the memo. And as newspapers alter their views on energy market intervention, consumers must work out what it would mean for them, my colleague Adam Vaughan says.
The Liberal Democrats, probably the only party genuinely excited at the prospect of a snap election, say their membership is set to pass the 100,000 mark following a surge of new joiners in the wake of May's announcement. £1.6m has also been raised, Tim Farron claimed, although he did make a plea on Peston on Sunday to "anyone out there feeling generous, the Lib Dem bank account is still open for business".
At a glance:
Poll position
According to a clutch of new polls over the weekend, with one showing half of all voters backing the Conservatives, May is heading for a landslide victory. One poll by Survation carried out as the row over Tory tax and pension plans was emerging, had the two main parties closer, with the Tories on 40% and Labour on 29%. A ComRes poll for the Sunday Mirror put the Tories at 50% and Labour on 25%, while the Tories could gain 12 SNP seats, according to a Panelbase poll for the Sunday Times found.
May, however, has not quite forgiven the pollsters for getting things so wrong in the last few years, it seems:



The opinion polls got the general election wrong in 2015. They got the EU referendum wrong … So we will not be complacent. We will be fighting for every single vote.
Diary
It's going to be a busy day for the Scottish Trades Union Congress (STUC) in Aviemore. Both Corbyn and Nicola Sturgeon are due to address trade unionists there today
Farron will be out in Kate Hoey's seat of Vauxhall in the afternoon
May, however, is not going out on the campaign trail today. I guess she'll just be getting on with STRONG. STABLE. LEADERSHIP then?
The Leader of the Commons, David Lidington, is going to make a statement at 3.30pm about how the government plans to manage the legislative wash-up before parliament is dissolved.
Talking point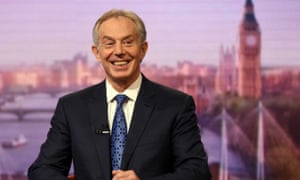 Aside from setting tongues wagging by urging people to vote Tory*, Tony Blair also hinted at an extraordinary return to British politics. He stepped down from frontline politics in 2007 but has become more vocal and politically active in recent months, including setting up a thinktank to make the case for the centre ground and for continued EU membership. So will the former prime minister stand for election?



I look at the British political scene at the moment and I actually almost feel motivated to go right back into it.
* Only if the candidate promises to have an open mind about the terms of the final Brexit deal.
Read these
In the Guardian, Zoe Williams argues that the emphasis on Corbyn's personal qualities obscures what's really broken in our political system:



No amount of spinning or grooming or looking Zen on Andrew Marr will make him look any way other than how he always has, an outsider by choice; more than choice, vocation. The progressive case will move faster when his allies and near-allies stop trying to tease failure from his policies and his speeches. There is nothing wrong with the direction or the analysis; no left-leaning party would lead on anything other than saving the NHS, building social housing and reducing inequality. Yet, at the same time, expecting undecideds to be won over by his very particular brand of contrarianism isn't realistic.
In the Spectator, James Forsyth says that the supposedly cautious prime minister has taken a dangerous gamble:



A prime minister going for an election when her party is 20-odd points ahead in the opinion polls doesn't seem much like a gamble. That's especially true when more than half of the leader of the opposition's own MPs don't have confidence in him. But this decision is the riskiest one that Theresa May has taken since entering No 10. If May were to lose her reputation as the serious grown-up of British politics, any general election victory would come at a cost for her personally. The May brand that has proved so potent would have been tarnished and her prime ministerial honeymoon would be over.
John Rentoul wrote for the Independent about the fight to succeed Jeremy Corbyn, which has already begun:



For those around Corbyn, the priority is to ensure that he stays on as leader after defeat, or that he is replaced by a fellow member of the faction. Hence the desperate attempts going on behind the scenes as you read this article to try to secure selection as Labour candidates in safe seats for Corbyn supporters.
Revelation of the day
Revelation is probably too strong a word but on the Marr show Corbyn said: "We haven't completed work on the manifesto yet, as you'd expect."
This, despite claiming to have been election ready for months, could be because he is actually crowdsourcing Labour's manifesto. On Sunday, Corbyn emailed Labour party members asking them to fill in a form with their ideas. The email asked: "How do you think we can best deliver prosperity for all, public services that are protected and ensure that the next generation have the best start in life?"
And another thing

Would you like to wake up to this briefing in your inbox every weekday? Sign up here!