25 Oct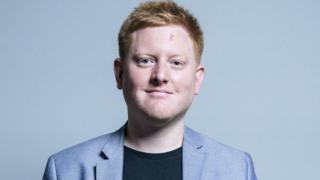 MP Jared O'Mara has been suspended by Labour while it investigates misogynistic and homophobic comments he is alleged to have made.
The Sheffield Hallam MP has apologised for remarks made online in 2002 and 2004, but denies some more recent allegations.
Labour is specifically investigating "comments and behaviour which have been reported from earlier this year".
But it said other information could be taken into account.
Shadow chancellor John McDonnell told the BBC: "There will be a full investigation by the Labour Party and then, as a result of that, a final decision will be made about his future."
New information
Asked about Labour colleagues who had defended Mr O'Mara in recent days, Mr McDonnell said: "They were basing that judgement on the information they had before them and the information that was provided to them by Jared himself and others.
"New information has come to light, so quite rightly the Labour Party has acted swiftly. He's been suspended, the whip has been withdrawn."
Asked about the case at Prime Minister's Questions, Theresa May said: "All of us in this House should have due care and attention to the way in which we refer to other people and should show women in public life the respect they deserve."
On Monday, Mr O'Mara resigned from the women and equalities committee after political website Guido Fawkes unearthed offensive comments made by the 35-year-old MP online as a younger man.
Then on Tuesday, Sophie Evans told the BBC's Daily Politics she had met Mr O'Mara on a dating app and there had been "no hard feelings" when things did not work out between them.
But in an incident in March, Mr O'Mara, who was DJing in a nightclub, made comments to her that "aren't broadcastable" and called her an "ugly bitch", she said.
A spokesman for Mr O'Mara said the MP "categorically denies" the allegation.
'Wise move'
The Guido Fawkes site has also found another post made by Mr O'Mara in his mid-20s, a review of an Arctic Monkeys gig, in which he calls girls "sexy little slags".
Labour's shadow education minister Tracy Brabin said Mr O'Mara's suspension was "probably a wise move".
Before the news broke, she had described his actions as "unpleasant and unacceptable", adding that the episode "doesn't look fantastic".
Conservative MP Mims Davies, chairwoman of the all-party parliamentary group for women in Parliament, said it was "right" that Mr O'Mara had been suspended over his "vile" comments.
But she added: "Why on earth has it taken so long?"
Also reacting to Mr O'Mara's suspension, the Conservative MP Suella Fernandez said: "A suspension is more than words, and that is the appropriate course of action."