5 May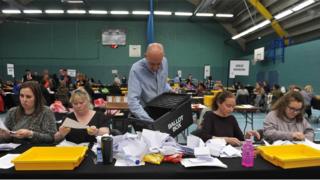 Some votes are being counted in local and mayoral elections in England, Wales and Scotland, five weeks before the UK's general election.
A total of 4,851 council seats are up for grabs in 88 councils – all of those in Scotland and Wales and 34 in England, including 27 counties.
Six new "metro mayors" will be elected in areas including the West Midlands and Greater Manchester.
Much counting will be done on Friday but some early results are coming in.
Labour have lost two seats to independents in Wrexham while the Conservatives have gained a seat from them in Warwickshire – although ward boundaries have been redrawn since 2013.
Results will be scanned closely for signs of how the major parties will fare at the general election on 8 June.
Among the battles to watch out for as the results come in are the SNP's attempt to seize control from Labour in Glasgow – and the Conservatives' bid to take back overall control of Norfolk County Council.
The Liberal Democrats need to secure a 2% swing to take Somerset County Council back from the Conservatives – a potential test of their hopes for a revival in the South West of England on 8 June.
In the mayoral contests, former Labour cabinet minister Andy Burnham, who is stepping down as an MP, hopes to become Greater Manchester's first elected mayor while in the West Midlands, former John Lewis boss Andy Street is running for the Conservatives while Sion Simon hopes to secure the role for Labour.
In Cardiff, the council has had to organise last-minute Welsh announcers for the local election counts after four of the council's officers pulled out, following a decision to announce the results in English before Welsh.
It is unusual for local elections to be held so close to a Westminster election but analysts have cautioned against reading too much into them, as local factors will come into play.
There will be full live text and video coverage of the results as they come in on the BBC News website and on special BBC news programmes.
---
Analysis: Local results shine light on election
By BBC political editor Laura Kuenssberg
These elections are a complicated set of local contests, some old, some new, some electing an individual to a position of great power, most, individual races in wards that make up only a few streets, for councillors who then group together to run our towns and cities.
So as the results come in, what are we looking for?
First, these are important elections in their own right, and the results make a big difference to decisions that are made on our behalves all round the country.
Local authorities have significant powers over education, planning, local business rates for example, and the drift of government policy has been to give them more, not less.
Second, while you will hear my colleagues and me caution dozens of times in the next 24 hours that the results do not translate directly to the general election, they are a really significant barometer.
Pay attention, therefore, to how the Conservative and Labour fight shapes up in areas like Nottinghamshire, or Derbyshire.
Big Tory inroads will be a real worry for Labour as we hurtle towards the general election.
---
This is a year of county council elections in England (34 councils, 2,370 seats). There were also polls in six unitary authorities where county councils and district councils have merged.
In Scotland, all 32 councils (1,227 seats) and all 22 councils in Wales (1,254 seats) were being contested.
For the first time, voters in Greater Manchester, the Liverpool City region, the West Midlands, Tees Valley, the West of England, and Cambridge and Peterborough will elect "metro mayors" covering combined local authority areas.
The mayors will mostly be responsible for economic development, but some will have powers over transport and housing.
In Doncaster and North Tyneside, residents voted for local authority mayors, who are elected leaders of their respective councils.
Campaigning in these elections has been overshadowed in recent weeks by Prime Minister Theresa May's decision to hold a snap general election a little over a month later.
---
What to expect when
Thursday 4 May
Some English and Welsh councils will begin counting ballots as soon as polls close at 22:00 BST.
These include the West of England mayor and councils for the Isle of Wight, Warwickshire, Dorset, Flintshire, Merthyr Tydfil and Blaenau Gwent.
Friday 5 May
Other English and Welsh councils will start counting on Friday morning, with results continuing all day Friday.
Scotland's 32 councils will start their counts at about 09:00 BST, with first results expected from midday.
Most mayoral results will be declared on Friday.
The West Midlands and Greater Manchester mayors are expected to be announced in the evening.