17 Apr
The front gardens of the comfortable Victorian terraced streets of Nelson ward, in south Norwich, are bristling with political signboards – most of them bright Labour red, but a fair smattering of Green party green and the occasional yellow of the Liberal Democrats.
"Some streets are just ablaze with red, which is great. And because the Greens are very strong here, we do have a friendly rivalry, let's say," says Hugo Malik, who represents this ward for Labour on Norwich city council – alongside two Green councillors.
It's a sunny day in Easter week, and a cheerful group of a dozen or so Labour activists, joined by local MP Clive Lewis, is out canvassing for next month's local elections. Like scores of Labour MPs up and down the country, out on the doorsteps over the past fortnight while parliament has been in recess, Lewis is keen to raise the spirits of his local party troops; and gauge the mood among voters.
Every front door here seems to reveal someone who wants to talk about politics – Brexit, the sky-high level of local rents, the state of the NHS … the state of the Labour party.
This is Corbyn country, and the local constituency Labour party has expanded rapidly over the past two years. But these leafy streets are also a remain stronghold, and it was the strength of feeling in places like this that contributed to Lewis's decision to defy the party whip and step down from the shadow cabinet in February, rather than vote to give Theresa May the authority to trigger article 50.
Malik says Brexit frequently comes up on the doorstep, where the conversation tends to be split 50-50 between national and local issues; and the loyalty of some natural supporters is being tested.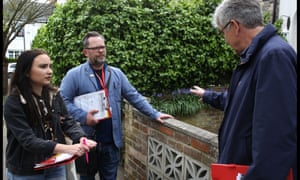 "Last year there was a real upsurge in interest; a massive rise in membership, and people mainly have stayed with the party – but there are so many things that are pulling people in different directions at the moment and Brexit, obviously, is the main one that's caused us quite a lot of problems on the doorstep."
Malik's seat is not up for grabs, but all 84 seats on Norfolk county council are being contested. The county council is under no overall control, but the Conservatives are by far the largest party. This ward is currently Green.
At one house, Andy McConnell, a Labour member, takes a break from looking after his granddaughter to lean against the doorframe and chat, says: "I've voted Corbyn every single time, but I'm beginning to worry.
"I feel as if we are compromising ourselves; I think Jeremy Corbyn is ambivalent, and I think ambivalence is being presented by the press as weakness – on Brexit."
He adds: "We live in a world where the soundbite is important, and he's not very good at that."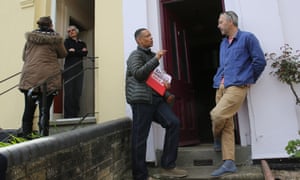 At another front door, Kate Morley, whose husband, Oreano, is Italian, chats to Lewis about her concerns on the NHS, and support services in local schools. Then Lewis asks: "How are you feeling about the Labour party at the moment? I shouldn't ask that question, but I feel like I have to ask it – I always ask it."
"I won't move my vote, but I'm not feeling tremendously positive," she replies, adding that she and her son Jack, a politics student, are at odds over the issue. "I was a big fan of Jeremy Corbyn – I kind of still am trying to be," she adds.
Lewis calls Jack to the door, and launches a spirited defence of the direction in which Corbyn has led his party, steering it away from what he calls "moderate zombie Blairism".
"Whatever you think of Jeremy Corbyn's leadership, it's made people think, what's the raison d'être of the Labour party, what are our values. He was ahead of the curve, in saying the economic system isn't working for people. Foreign interventionism wasn't working."
He adds: "I don't agree on everything, I resigned over Europe; but there are other issues where I think we've got to give it our best shot, because the alternative is oblivion."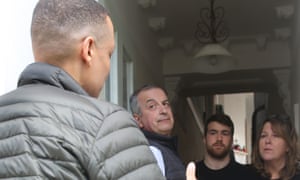 He also points to the flush of new policies the party's frontbench has unveiled over the past fortnight, in a bid to silence the criticism that Corbyn's Labour is better at slogans than detail. Free school lunches; a £10 minimum wage; legislating against bank closures. The outlines of a Labour manifesto have started to become clear; and early polling suggests it is popular with the public – though there is little sign of the Tories' double-digit lead being eroded.
Emma Corlett, who is the Labour councillor on the county council for the nearby ward of Town Close, and is also out knocking on doors today, says: "Our vote seems to be holding up quite well."
But she is clearly irked that whatever Labour's achievements locally, voters raise the goings-on at Westminster: "No one's saying the policy is going in the wrong direction, or things are too leftwing at all, it's more about, we think these policies are fantastic, we're just frustrated that nationally the leadership is not articulating it enough."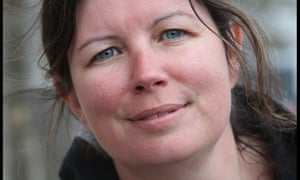 It was that concern that led to the flurry of recent policy announcements from Labour HQ. But while in the lefty haunts of Norwich the problem may be persuading loyalists to keep the faith, in other parts of the country the challenge is getting a hearing at all.
Twenty four hours earlier, John McDonnell, the shadow chancellor and a key figure in the Corbyn project, was visiting an Age UK Coventry drop-in centre, presenting pensioners with slick little red "pledge cards", listing a series of promises, including keeping the winter fuel allowance, and maintaining the triple-lock protection of the state pension.
Explaining the policy to a group of chatty women knitting and sewing, the conversation is sparky, and McDonnell is challenged by Ann Caswell, who says she does not need her winter fuel allowance; but resents having missed out on the full state pension because she worked part-time to care for her family. "We'll take that back," he says, listening carefully.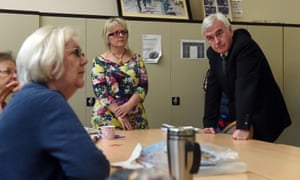 When the shadow chancellor has left, Caswell and her friends express a sentiment familiar to many politicians on the stump in the past couple of years: a plague on all their houses. Asked whether Labour could change things for the better, she says: "They don't change it when they're in power, they won't change it when they're out, will they?", as her friends chip in approvingly.
She still votes, she says. "I think it's imperative that you vote – people fought for us to vote." But she does not see McDonnell as any different from other professional Westminster politicians, far removed from the real world. "I'm just too suspicious."
In Norwich, Lewis reassures wavering Corbyn fan McConnell. "I think the next year will be very important. We'll have conference I think things will come to a head. And I think also things that will happen in the economy as we move into Brexit. Events dear boy, events."
As Labour MPs return to Westminster from constituencies up and down the country this week, they will be swapping anecdotes about scores of encounters like these with voters, anxious, disillusioned or indifferent; but many are feeling concerned about the fate of local councillors on 4 May – and what that means for Labour's prospects in 2020.