15 Oct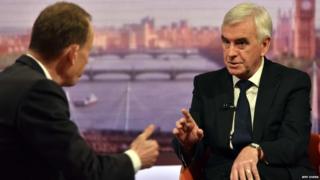 Parliament can stop the UK leaving the EU without negotiating a deal, shadow chancellor John McDonnell has said.
He told the BBC there was "not a majority" in the Commons for such a scenario and he would work with other parties to stop a "damaging" outcome.
He urged ministers to "come to their senses" and publish legal advice on what its financial obligations are.
Transport Secretary Chris Grayling said the UK will "succeed come what may" but he was hopeful of a "sensible deal".
Dismissing Mr McDonnell's comments as "complete nonsense", he told the Andrew Marr show on BBC One that it was a "legal reality" that the UK would be leaving at the end of March 2019 after Article 50 was triggered earlier this year.
Prime Minister Theresa May has said she believes the two sides will reach a deal but the UK must prepare for all eventualities.
As it stands, the UK will leave the EU in March 2019 whether it agrees a deal on the terms of withdrawal or not.
But Mr McDonnell said he could "not countenance" such a situation and Parliament had the power to force the government to conceded a "meaningful vote" on the final deal, by amending the EU Withdrawal Bill or other relevant legislation related to Brexit.
"No deal is not an option," he said. "There are enough sensible people in the House of Commons to stop this happening."
Urging ministers to stop "squabbling" among themselves, he added: "They should come to their senses, behave responsibly and look after the interests of the country."
He called on ministers to publish legal advice about what they might be obliged to pay the EU in their so-called divorce bill, claiming that it was "perfectly reasonable" to do this.
Labour, he said, believed the UK should honour its legal obligations but he said the final figure should not be anywhere near the £60bn that has been quoted in some quarters.
'Sensible partnership'
The government has appointed a Brexit "contingency minister" and will spend £250m this year on preparing for the UK's exit, including the possibility of it leaving without an official deal.
Speaking on the same programme, Mr Grayling said talks were always going to be "long and challenging" and it was fanciful to suggest the two sides would "shake hands and do a deal in half an hour".
Labour, he said, were wrong to argue that Brexit could in some way be stopped or that the UK should do a deal in any circumstances.
"John McDonnell was talking a lot of complete nonsense," Mr Grayling said. "Parliament has already voted to leave the EU."
While he believed that the two sides would ultimately negotiate a deal, he suggested he was not personally afraid of the UK leaving the EU without one.
"Britain will succeed come what may but I don't think we will come to that. I think we will agree a sensible trading partnership… because it is in both of our interests for this to happen."
He rejected suggestions that flights would be grounded – as one major airline has suggested – in the event of a no-deal Brexit, insisting "people will be able to carry on making their bookings".
Asked about reported cabinet divisions, Mr Grayling said ministers were "not clones" but there was a spirit of collaboration and Philip Hammond, criticised in recent days for being too gloomy, should remain as chancellor.
Amid talk of supporters of a "soft Brexit" joining forces to put pressure on the government, ex-Tory education secretary Nicky Morgan said most MPs wanted "a sensible deal that protects our economy and supports jobs".
While the UK would be "resilient" whatever happened, she told ITV's Peston on Sunday that she was dismayed that some of her colleagues were talking up a no-deal Brexit as a "favourable outcome".