24 Oct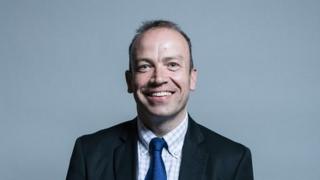 A Eurosceptic Tory MP has been accused of compiling a "hit list" of university professors who teach Brexit courses.
Chris Heaton-Harris has written to universities asking for names of such professors and the content of their lectures.
A lecturers' union said the letter had the "acrid whiff of McCarthyism" – and Tory peer Lord Patten called it "idiotic and offensive".
Mr Heaton-Harris said he believed in "open" debate on Brexit.
The government whip tweeted: "To be absolutely clear, I believe in free speech in our universities and in having an open and vigorous debate on Brexit."
Mr Heaton-Harris is a member of the pro-Brexit European Research Group of Conservative MPs.
'Courteous request'
His letter has drawn widespread condemnation from universities, who have accused the Daventry MP of attempting to censor academic freedom and influence what is being taught.
Downing Street said Mr Heaton-Harris had written to universities in his capacity as an MP and not as a representative of government.
The prime minister's official spokesman said Theresa May respected the freedom and independence of universities and the role they play in providing open and stimulating debate.
Commons leader Andrea Leadsom insisted Mr Heaton-Harris had not sent a "threatening letter" to universities, although she could not say why he had sought the information.
She told BBC Radio 4's The World at One: "It does seem to me to be a bit odd that universities should react in such a negative way to a fairly courteous request."
'Outrageous and foolish'
Sally Hunt, chairwoman of lecturers' union the University and College Union, said: "Our society will suffer if politicians seek to police what universities can and cannot teach.
"This attempt by Chris Heaton-Harris to compile a hit list of professors has the acrid whiff of McCarthyism about it and (universities minister) Jo Johnson must disown it in the strongest terms.
"Our universities and colleges must lead the way in defending academic freedom, where received wisdom can be challenged and controversial ideas debated."
The Guardian revealed that Mr Heaton-Harris wrote to university vice-chancellors at the start of this month asking for the names of professors "involved in the teaching of European affairs, with particular reference to Brexit".
The MP's letter also asks for a "copy of the syllabus" and online links to lectures on Brexit.
Lord Patten, the chancellor of Oxford University, and former chairman of the BBC Trust, described Mr Heaton-Harris's letter as an "extraordinary example of outrageous and foolish behaviour – offensive and idiotic Leninism".
'Waste paper'
The peer, a longstanding supporter of Britain's membership of the EU, told BBC Radio 4's The World At One: "I couldn't believe that it had come from a Conservative MP.
"I think he must be an agent of Mr Corbyn intent on further increasing the number of young people who want to vote Labour."
He said he was sure most university vice-chancellors would drop the letter "in the waste-paper basket" and he accused Mr Heaton-Harris of an affront to free speech and of treating UK universities like "Chinese re-education camps".
Amelia Hadfield, Professor of European and International Relations at Canterbury Christchurch University, told BBC News "my reaction is one of shock and outrage".
"I think it is a sinister request," she added, "it's a dangerous step towards censoring academics".
McCarthyism refers to US Senator Joseph McCarthy who led attempts to purge alleged Communists in public life the 1950s.