28 Apr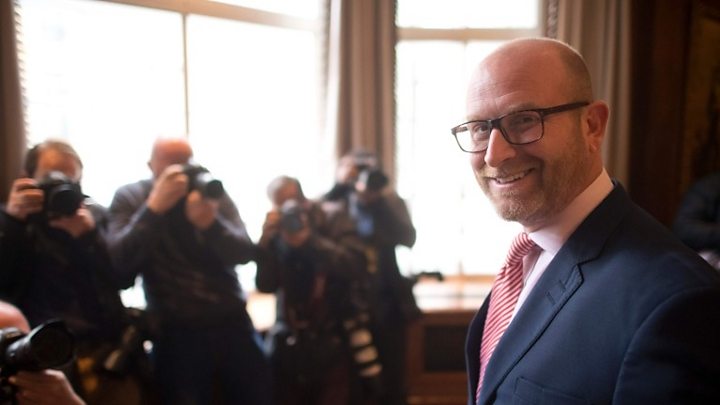 UKIP leader Paul Nuttall has denied claims from a former party donor that the party is at "war" with Muslims.
His proposed burka ban prompted Arron Banks, once UKIP's biggest backer, to tweet that he didn't "approve of the war on Muslim religion".
But Mr Nuttall said the policy would merely bring the UK into line with countries like France and Belgium.
UKIP launches its election campaign later but will not stand in "tens" of seats represented by Brexiteer MPs.
Mr Nuttall told BBC Radio 4's Today programme he would do his "duty" as leader and stand for election to the Commons although he has yet to confirm which constituency he will contest.
The Islamic veil across Europe
What's the difference between a hijab, niqab and burka?
He said he had asked "a number" of branches to consider not standing in areas currently represented by prominent Leave campaigners from all parties: "I'm not talking about five-to-midnight Brexiteers, or people who have just come to this opinion recently, I'm talking about people who have campaigned with us for many years, whether that's on platforms with Vote Leave or Leave.EU or GO," he said.
'Absolute nonsense'
It emerged on Thursday that UKIP has agreed not to stand against the Conservative MP Philip Hollobone in Kettering.
Mr Nuttall dismissed as "absolute nonsense" reports UKIP would only stand in 100 seats. "We've got 350 candidates already selected, there will be a lot more selected over the weekend. UKIP will be standing in the vast majority of the country."
On the accusation that the party was "at war with Muslims", Mr Nuttall said: "We are not at war with Muslims. What we want to see is equality, we want to see integration.
"The problem that we have in this country … integration is getting worse … communities are becoming more divided. What we need to do is make sure that people come together."
Full-face veils are already banned in public in some European countries, including France.
Mr Nuttall said he was "not surprised" UKIP's West Midlands MEP James Carver, who quit his party role as foreign affairs spokesman, could not stand by the party's proposed ban on face coverings as "the party has two wings".
'A bit uncomfortable'
But he added: "All I have done with the niqab or face coverings ban is bring us in line with countries like Belgium, France, Bulgaria, Barcelona."
"We are not going to go back on that. It was a policy in 2010, it's one I believe in … If you want to really enjoy the full fruits of British society you have to show your face.
"I'll give you an example – 58% of Muslim women in Britain are economically inactive. If you aren't prepared to show your face it precludes you from lots of streams of employment."
Former UKIP leader, Nigel Farage, proposed a burka ban in 2010 but the party later dropped the policy, and it did not appear in its 2015 manifesto.
Mr Nuttall was also asked about comments made by prospective parliamentary candidate for Lewisham East Anne Marie Waters, who in a recent election video on Twitter, said "Islamic culture does not fit with ours".
Mr Nuttall said she had not yet been selected and the party's national executive committee would look at her comments later on Friday and would "take a decision then".
He said the comments were "way above and beyond party policy" and some had made him feel "a bit uncomfortable" but he would "look at the evidence" in full.
UKIP won 3.9m votes in the 2015 general election but only one seat in Parliament – Clacton, which was represented by the former Conservative MP Douglas Carswell.
Mr Carswell quit UKIP last month to sit as an independent and is not contesting the seat on 8 June.