30 Oct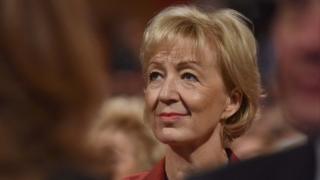 Commons leader Andrea Leadsom is to make a statement on proposed changes to grievance procedures to tackle sexual harassment in Parliament.
Theresa May has said the disciplinary regime "lacks teeth" and must be strengthened amid allegations of inappropriate behaviour by MPs.
She wants a new mediation service for disputes and a contractually binding complaints procedure for MPs' staff.
Labour's John Mann said nothing was being done about "serious complaints".
He told LBC that there was one case, "within the last couple of years", in which the police became involved but no action was taken "because the alleged assault took place abroad".
Following a number of allegations in recent days about the behaviour of MPs, including serving ministers, both Downing Street and the House of Commons authorities are under pressure to act.
No 10 said Theresa May took the issue seriously and said she would sit next to Mrs Leadsom when she addressed the Commons.
However, Downing Street rejected suggestions there was a government "dossier" circulating about claims against individual MPs and "therefore the PM hasn't seen one".
Anna Soubry, a former Conservative minister, told BBC Radio 4's Today programme that while there isn't "a culture" of harassment, there is a problem and "we are all responsible for sorting it out".
"Many of us are fed up to the back teeth of the level of misogynistic abuse," she said, arguing that a new system must protect all workers within the Palace of Westminster.
At the moment, there is a 24-hour confidential helpline for all staff to report abuse claims and an HR advice service for MPs and their staff. But those who work for a Member of Parliament are directly employed by that person's office and are not covered by grievance procedures for other parliamentary staff.
As such, complaints are dealt with within a small team of often no more than a handful of staff. "That whole system is completely wrong," Ms Soubry told Today.
---
What are the existing procedures?
People who work for MPs are legally employed by them and are not covered by the established grievance procedure for other Parliamentary employees.
Employment disputes have traditionally been handled in-house by the MPs concerned with, in some cases, the input of political parties.
The Independent Parliamentary Standards Authority, which pays MPs and their staff, offers guidance on grievance procedures to MPs when they draw up employment contracts but these are not binding.
The guidance states anyone with a complaint against an MP should initially make it to their line manager, even though this could be the MP themselves. It goes on to set out the best practice procedures to be followed.
MPs are bound by rules set out in a code of conduct drawn up in the mid-1990s. They are expected to act with "probity and integrity" and "in accordance with the public trust" placed in them.
Parliament's standards commissioner has the power to investigate claims that MPs have undermined the "reputation" of Parliament – but the rules do not cover sexual matters.
---
In her letter, Mrs May said the current system for airing grievances was not fair on employees, many of whom were young and in their first job.
She said the Conservatives had offered their MPs a voluntary code of conduct in 2014 but that it had no legal force and therefore it was "not fit for purpose".
"I do not believe that this situation can be tolerated any longer," she wrote, calling for "employment irregularities" to be dealt with immediately to maintain public trust in Parliament.
The Independent Parliamentary Standards Authority, which pays the salaries of MPs and their staff, has expressed concern in the past about the lack of HR support for MPs' staff.
But the watchdog said following a consultation with MPs and the Commons authorities last year, it was decided that it should have "little intervention" in staffing matters beyond payroll and it was not within its remit to set up a third-party body to do so.
The BBC's assistant political editor Norman Smith said that while there appears to be a growing consensus among the party leaders that something needs to be done, there is less clarity on exactly what.
While he said there were concerns that Mrs May's proposals to tighten the rules did not go far enough, potentially not covering interns and those on work experience, it was also unclear whether the new body would have an investigatory role and what penalties it could impose on MPs.
Over the weekend, a Cabinet Office investigation was ordered into whether Conservative MP and international trade minister Mark Garnier breached ministerial rules after he admitted asking his secretary to buy sex toys and calling her "sugar tits".
And former Welsh Secretary Stephen Crabb was reported by the Sunday Telegraph to have admitted sending "explicit" messages to a 19-year-old woman after a job interview at Westminster in 2013.
Labour leader Jeremy Corbyn, one of whose own MPs has been suspended amid claims of misogynistic comments, said he was ready to meet the speaker and prime minister to strengthen those procedures.
Liberal Democrat leader Sir Vince Cable signalled his support for the PM's initiative and said: "Parliament clearly needs improved procedures to respond to allegations of harassment."